Square or rectangular hinges are hinged parts, where the length of the knot is equal to the length of the leaf. Multiple square hinges together form a lift-off hinge (at 2 square hinges) or a hinge (at 3 or more square hinges). When it comes to rectangular hinges, all sorts and options are possible with BOSCH Hinges. No matter how specific your wishes are, our custom-made square or rectangular hinges always offer a solution for your challenge.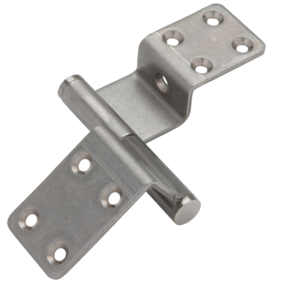 Need a custom square hinge?
Are you looking for custom square or rectangular hinges? We produce square or rectangular hinges for various applications, entirely customer-specific.
At BOSCH Hinges everything is custom made. That's why we don't have a catalog. The possibilities are only limited by your imagination. You come up with it, we make it. From small to large series, from simple to complex. And with fast delivery times thanks to our streamlined production processes. Whether the hinges need to be extra thick, large or flexible: custom-made, fast delivery. Do you want 25 or 2500 pieces?
Knuckle
The hinge knuckle is the circular part. Also called bead or loop. The knuckles of the two different clasps usually alternate around the pen.
1 of 10
Pin
The pin connects the two (or more) hinge leafs.
2 of 10
The pin diameter determines the thickness of the pin, measured in diameter.
3 of 10
Leaf
The leaf or blade of the hinge is the rotating or fixed part of a hinge.
4 of 10
The leaf width is the distance from the end of the leaf to the center of the pin.
5 of 10
The leaf thickness is the thickness of the hinge.
6 of 10
The hinge width is the total width of the open hinge: measured at right angles to the pin. 
7 of 10
The knuckle length is the length from one end to the other end of a single knuckle, parallel to the pin. Usually this is a fixed size, e.g. 30mm, 25mm, 20mm, etc.
8 of 10
The end play is the light axial movement between the knots over the axis of the pen. This is caused by the small space between the nodes, which causes the leaf to hinge.
9 of 10
The hinge length is the total length of the hinge measured over the leaf parallel to the pin.
10 of 10